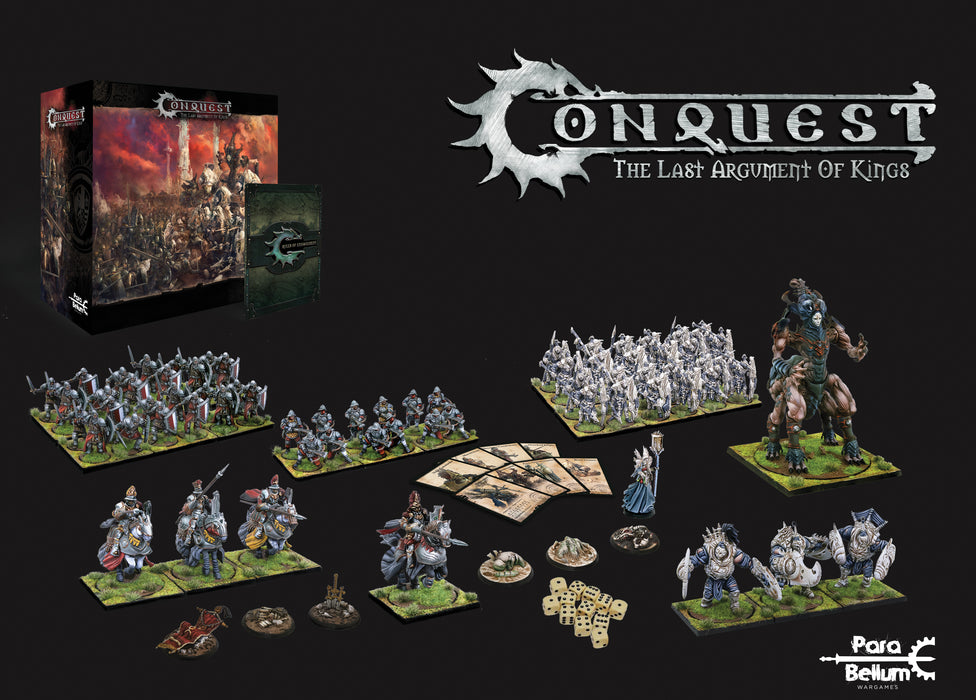 Conquest: The Last Argument of Kings Two Player Starter Set
Sold out
Original price
$135.00
-
Original price
$135.00
More than six centuries have passed since the Fall changed Ea. Humanity struggles to rebuild after that cataclysm and the Long Winter that followed. With the Hollow Throne empty, the Hundred Kingdoms remain embroiled in internecine warfare, as the Nobility covets the remnants of the Empire, while the Church grinds its teeth at the weakened Orders. With mankind far from the glory and might of its Old Dominion, the enigmatic Spires exert their power for the first time in eons. Shedding millennia of custom and practice, the merchant princes seek the wealth of the lesser races, in an effort to break the stranglehold of power the Directorate and the Sovereign House exert. As the vicious games of these elders spill into the mortal realm, misery and warfare spread like a disease from their domains.
Grab a friend and dive into the world of Conquest: The Last Argument of Kings with our Core Box Set! With proposed scenarios designed to ease you into the system of Conquest, the box contains three warbands and a commander unit for each faction, allowing two players to clash on the field. Whether you rally the might of the Hundred Kingdoms or command the twisted creations of the Spires, the objective is one and the same: Conquest.
Contents:
The Hundred Kingdoms
1 Mounted Noble Lord: Bred and trained for battle from birth, the Mounted Noble Lord leads the forces of the Hundred Kingdoms.
24 Men-at-Arms: Professional soldiers, drawn from a population and militarized society that has not known peace for over four hundred years.
12 Mercenary Crossbowmen: Descended from the Geronese Free Companies, these Crossbowmen rank amongst the best marksmen available to an enterprising commander.
3 Household Knights: The ultimate weapon available to the Hundred Kingdoms nobility, the charge of these Knights has shattered countless formations across centuries of war.
The Spires
1 Pheromancer: Called upon by his distant masters, the Pheromancer marches to war at the head of his freakish host using his powers to command this inhuman host.
24 Force-Grown Drones: The tall shields and spears of the pitiful wretches do little to disguise the truth: they are bred not to fight, but to die at their appointed time.
3 Brute Drones: Towering masses of vat grown muscle and aggression, Brute Drones are the result of recall experiments in growth hormones and muscle enhancers.
1 Abomination: A, a creature so twisted and savage that even the minds who conceived of it hesitate to lead it into combat. leaving that task to the Pheromancers.
69 Plastic Miniatures, 6 model markers, 1 Rule Book, 12 Dice and 20 Cards.