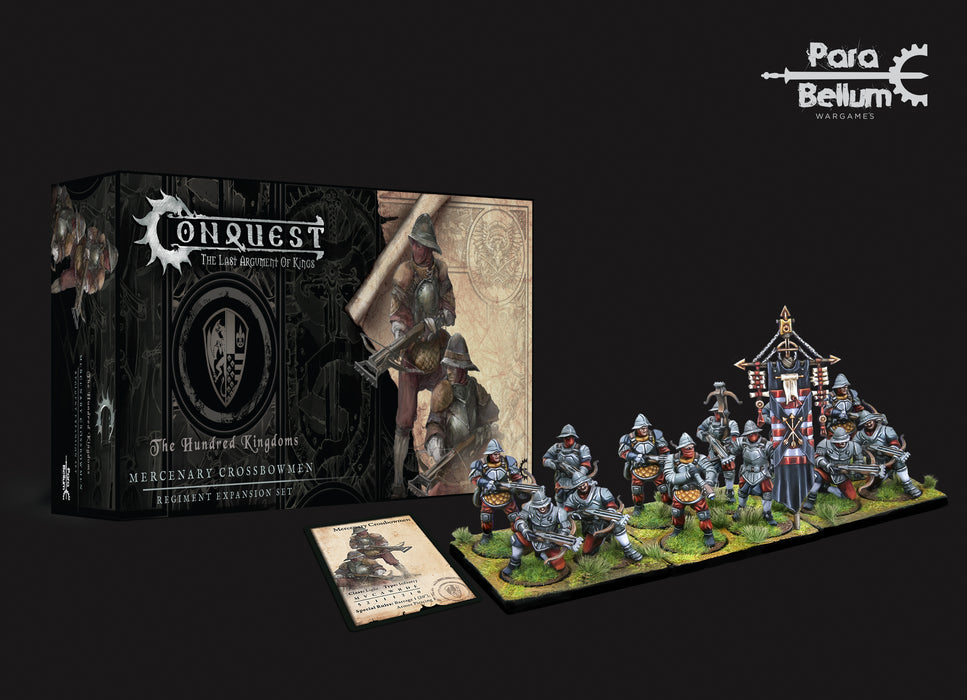 The Hundred Kingdoms - Mercenary Crossbowmen
Sold out
Original price
$55.00
-
Original price
$55.00
"What do you mean you've not been trained in this contraption', soldier? Secure the string, place the bolt, direct it at the enemy and press the trigger. Aiming's optional. There. Trained.?
The crossbow represents a significant technological improvement over the bow and longbow. While some could argue that the longbows increased range and rate of fire outclass the crossbow, mastery of that massive weapon requires years, while a man can learn to competently care for and use a crossbow in a matter of days. This factor has made crossbows the favourite weapon of mercenary companies throughout the Hundred Kingdoms, or at least those who do not baulk at the cost of the device itself. The most reliable and famous (as well as wealthiest) of such companies are the Geronese Free Companies. These companies are the spiritual descendants of the crossbow armed mercenaries that the infamous mercenary captain, Danilo Meck, found instrumental in keeping his enemies from the walls of his camp, and in time from the city of Gerona that grew there. While they do not possess a monopoly on the weapon design or its use, centuries of experience with the manufacture, use and repair of these deadly devices, have granted the Geronese a tremendous advantage. While many mercenary companies boast a complement of crossbowmen in their employ, few can match the versatility, fire drill or accuracy of the Geronese. Their extensive training and broad range of equipment allow them the use of heavy arbalests in defensive formations for siege battles, as well as the use of lighter weapons, while ranging in advance of the army as skirmishers.
12 models per pack including Command expansion and regiment stands, and 1 iCard.