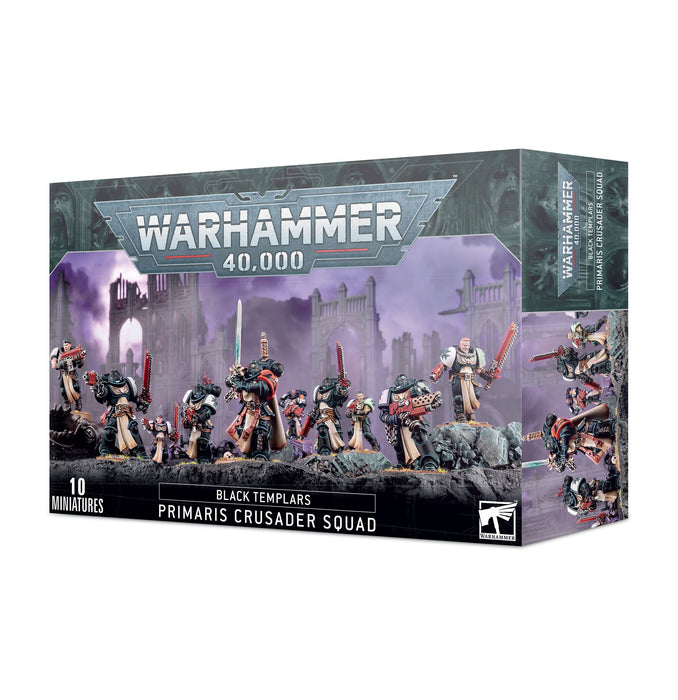 Black Templars: Primaris Crusader Squad
Save

20

%
Save

20

%
Original price
$98.00
-
Original price
$98.00
The six Primaris Initiates have a variety of helmeted heads and unhelmeted heads. Two Initiates can be built with a choice of auto bolt rifle or heavy bolt pistol and Astartes chainsword, while the third can be built with an auto bolt rifle, a pyreblaster, or a heavy bolt pistol and an Astartes chainsword, with the option to change the chainsword to a power fist.
Alternatively, one Initiate can be built as a Sword Brother, who has a choice of helmeted and unhelmeted heads. He can be built with a power sword or power axe, and a heavy bolt pistol or pyre pistol.
The four Neophytes have four unhelmeted head options and can be equipped with either bolt carbines or bolt pistols and Astartes chainswords.
The kit is comprised of 228 plastic components, with which you can assemble Primaris Crusader Squad, containing six Primaris Initiates and four Neophytes with a choice of weapon options. Alternatively one Primaris Initiate can be built as a Sword Brother. These miniatures are supplied unpainted and require assembly – we recommend using Citadel Plastic Glue and Citadel paints.