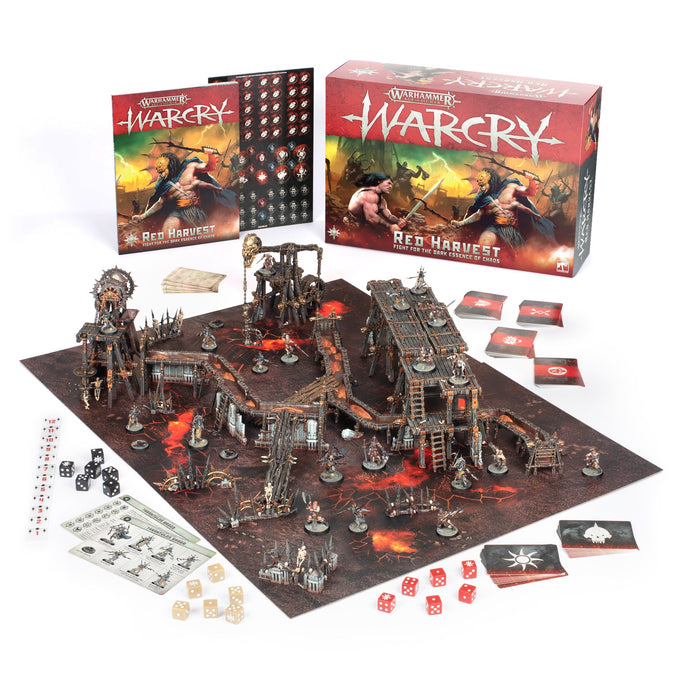 Warcry: Red Harvest
Sold out
Original price
$350.00
-
Original price
$350.00
This loaded boxed set contains:
- 104-page Red Harvest book – laying out the setting of the Eightpoints and varanite delves, the rules of the game, plus enough campaigns and quests to keep you playing for ages
- Darkoath Savagers – 10 brutal warriors that value strength above all else and revel in bloodshed. The warband includes 1x Slaughtermaster, 1x God-speaker, 1x Wrathtouched, 2x Proven, and 5x Gloryseekers with a variety of weapon options
- Tarantulos Brood – 13 spider-like mutants who worship the Eightfold Watcher. The warband includes 1x Broodmaster, 2x Doomweavers, 7x Broodkin, and 3x Spider Swarms
- A 28-piece set of plastic varanite delve scenery – including a centrepiece pit dredger and varanite syphon, 2x wooden structures, 2x ladders, 2x wooden gangways, 12x modular sluice segments, 6x spiked barricades, and 2x spiked gangways
- A double-sided 22" x 30" folding gaming board
- Tokens, dice, cards, and all the essential accessories you need to play!
Whether you're taking your first fledgling steps into the inhospitable Eightpoints or seeking new territory for your warband to conquer, Red Harvest is a great way to play Warcry.
These miniatures are supplied unpainted and require assembly – we recommend using Citadel Plastic Glue and Citadel paints.